LaNA offers regular events, workshops and network meetings. These events are ideal opportunity for the members to expand their knowledge, exchange information on women's issues and establish new contacts for their careers. The LaNA program includes
International Women's Day – Breakfast
Ladies Tea Time
LaNA on Tour
Career workshops
Networking meetings
Lunch meetings ("Stammtisch")
Unsere nächsten Termine:
Jul
2
Sat
Lange Nacht der Wissenschaften

@ Rudower Chaussee 19, 12489 Berlin
Jul 2 @ 17:00 – 0:00
Zur Lange Nacht der Wissenschaften (LNdW) öffnen zahlreiche Wissenschaftseinrichtungen aus Berlin und Umgebung Ihre Pforten. In der Zeit von 17.00 bis 24.00 Uhr haben Besucherinnen und Besucher die Möglichkeit sich durch u.a. durch Besichtigungen, Vorträge oder Mitmachexperimenten in direkten Dialog mit Wissenschaftler/-innen zu begeben.
Details und weitere Informationen zum Programm werden in Kürze hier veröffentlicht.
Girls on Tour: Lange Nacht der Wissenschaftlerinnen

@ Start: HZB, Albert-Einstein-Straße 15, 12489 Berlin; Ende: IGAFA, Rudower Chaussee 19, 12489 Berlin
Jul 2 @ 17:30 – 20:30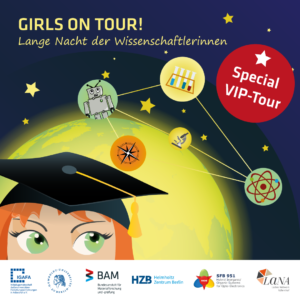 Du bist Schülerin der 10. – 13. Klasse und interessierst Dich für Naturwissenschaften?
Dann sichere Dir Dein kostenfreies VIP-Ticket für eine Tour mit spannenden Experimenten und Einblicken z. B. in erneuerbare Energien, Mikroplastik in der Umwelt und Nanooptik.
Lerne Wissenschaftlerinnen am BESSY II des HZB, der HU sowie der BAM kennen, die mit Leidenschaft für unsere Welt von Morgen forschen, und erfahre in der IGAFA, welche vielfältigen beruflichen Perspektiven sich Dir bieten!
Wann: 2. Juli 2022 von 17:30 – 20:30 Uhr
Verbindliche Anmeldung unter igafa@igafa.de!
International Women's Day-Breakfast
The International Women's Day has been a tradition for over 100 years. Every year LaNA invites women for a breakfast on this memorable date. In the current series executives, such as directors of the institutes, managing directors and CEOs of companies located at Technology Park Adlershof explain their internal measures for the promotion of women and outline their effects.
Ladies Lunch and Ladies Tea Time
Successful women from science, business and politics are guests at Ladies Lunch and Ladies Tea Time and speak about their personal career paths. This series of events aims to offer insights in career options in different fields and to analyze the factors that are needed to place more women in management positions. The speaker's remarks are followed by a stimulating and lively discussion.
Selected speakers at the Ladies Tea Time* since 2009
LaNA on Tour
With LaNA on Tour the network provides exclusive insights into companies and public institutions. The series of events offers the opportunity to exclusively talk to executives and to visit places that would otherwise remain rather closed to the public. For example LaNA on Tour took place at the Berlin Brandenburg Broadcasting (rbb) and the President of the Court of Appeal received the members of LaNA in their institutions.
Career workshops
While a wide range of training courses for key qualifications is offered in Adlershof, many members still wish to continue their education – especially in the field of soft skills. LaNA offers workshops for issues like self-marketing, team building and social media. The participants are able to take along many valuable and concrete impulses for their careers.
Networking meeting for women's representatives and equal rights representatives
LaNA supports the women's representatives and equal rights representatives of the research institutions in Adlershof with specific offers and creates opportunities to identify and discuss relevant topics.
Lunch meeting ("Stammtisch")
Monthly the women's representatives and equal rights representatives as well as interested guests meet for lunch in the restaurant "Kamee". This platform is perfect for informal exchange and has already launched many inter-institutional projects. Upcoming events…